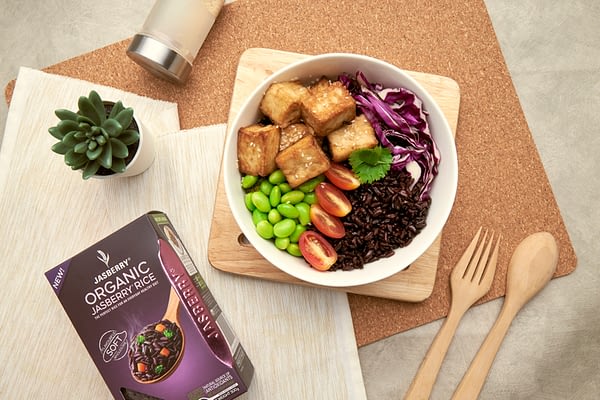 This crispy tofu bowl is the perfect single-serving lunch for vegans and non-vegans alike. Warm, flour-crusted tofu and Jasberry rice pairs perfectly with the bright flavors of cherry tomatoes, edamame, and purple cabbage. This bowl's got you covered with your daily protein intake!
Serving size: one serving (one bowl)
– 1/3 cup of cooked Jasberry rice
– ½ block of extra firm tofu (100g)
– ½ cup of shredded cabbage
– 2 cherry tomatoes
– ¼ cup of Edamame
– 1 tbsp coconut oil
– Sesame seeds (optional)
For the tofu marinade:
– 1 tbsp Soy sauce
– 1 tsp lemon juice
– 1 tsp maple syrup
– 1 tsp Sriracha sauce
– 1 tsp of garlic powder
– 1 tsp of grated ginger
– 2-3 tbsp cornstarch or flour
Directions:
1) Cook Jasberry rice according to packaging instructions.
2) In a bowl, whisk together soy sauce, lime juice, maple syrup, Sriracha sauce and garlic powder.
3) Use a towel to dry half a block of extra firm tofu. Cut into ½ inch cubes. Add tofu into marinade and set aside for about 15 minutes, flipping the tofu cubes occasionally.
4) Defrost Edamame.
5) Then dust tofu cubes with cornstarch or flour until fully coated. Fry tofu cubes with coconut oil in a non-stick pan on all sides.
6) Assemble the crispy tofu, Jasberry rice, purple cabbage, edamame, and cherry tomatoes in a bowl.
7) Serve with your choice of dressing and garnish with sesame seeds.