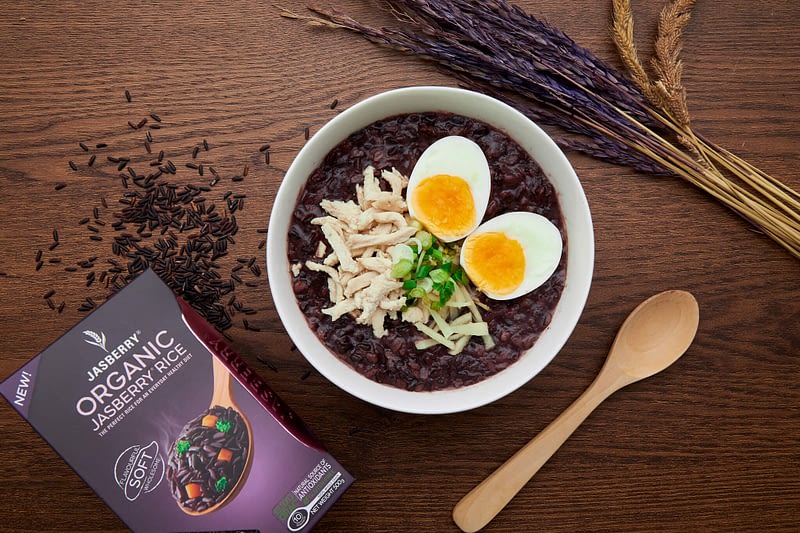 Good morning! Wake up with a congee bowl packed with antioxidants by replacing white rice with Jasberry superfood rice.
Jasberry rice grains make a silky smooth congee that will get you ready for the day!
Ingredients for one serving:
– ½ cup cooked Jasberry rice (approx. ¼ raw Jasberry rice)
– 2 cups chicken broth
– 1 pcs boneless chicken breast
– 1 Tbsp grated or minced fresh peeled ginger
– 1 Tbsp Green onion, chopped
– 1 Tbsp Soy Sauce
– Ground white pepper
– Salt
– Cilantro
Directions:
1) Bring chicken broth to boil in a medium saucepan. Add the chicken and some ginger, cover and reduce heat to simmer for about 35 minutes.
2) Remove and transfer chicken to a cutting board to cool. Discard the ginger. Shred chicken and set aside in a covered bowl.
3) Add Jasberry rice to the broth. Simmer until rice is very soft and broken down about 60 minutes.
4) Stir leftover grated ginger into rice porridge. Check to season, and adjust with salt and ground white pepper.
5) Pour rice congee into a bowl, and top with chicken breast and cilantro. Serve with soy sauce for seasoning.