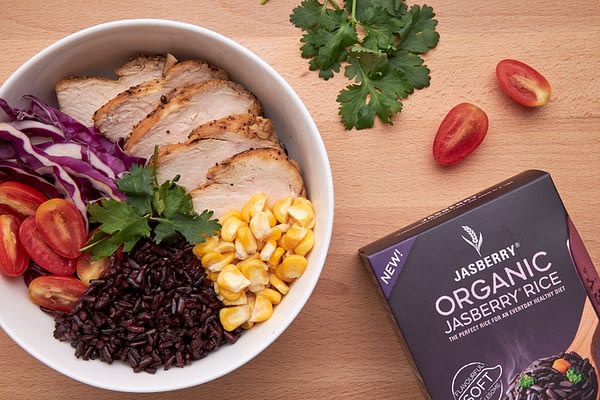 This healthy, filling and a good-for-you Chicken Jasberry rice bowl comes together in minutes!
Full of fresh ingredients and incredible flavor! Thanks to Jasberry superfood rice, this bowl is the perfect example of a hearty and nutritious combination without sacrificing your taste buds. Pair with the dressing of your choice for an extra twist.
Recipe for one bowl:
Ingredients:
– ½ cup of cooked Jasberry rice (about ¼ cup of raw Jasberry rice)
– 1 piece of chicken breast
– 1 tbsp of olive oil
– ½ cup of purple cabbage
– ¼ cup of corn
– 3 cherry tomatoes
– Salt and Pepper
– Thyme, dried
– Parsley, dried
– Cilantro, fresh (optional)
Directions:
1. Cook Jasberry rice according to packaging instructions.
2. Season the chicken breast with salt, pepper, thyme, and parsley, making sure to coat both sides. Heat 1 tbsp of olive oil on a pan on medium-high heat. Place the chicken breast on the pan once it's hot. After three minutes (or until the tops of the breast have turned white), flip the breast and cook for a further three minutes. Remove from the pan. Slice the chicken into preferred sizes.
3. Arrange the chicken breast slices, cherry tomatoes, purple cabbage, and corn onto a bed of Jasberry rice. Feel free to top with cilantro and your favorite sauce.