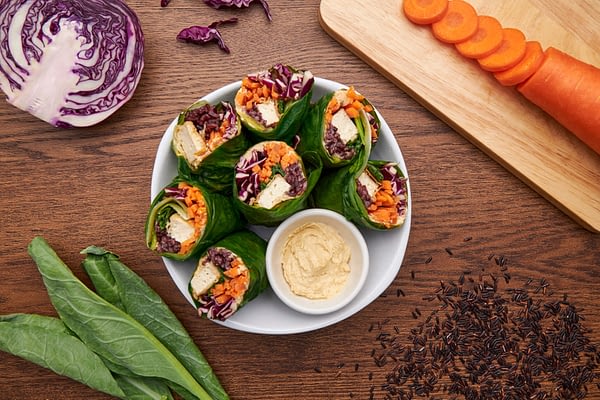 Jasberry rice kale wrap is a healthy, vegan and creative wrap alternative!
Earthy Jasberry rice harmonizes perfectly with fresh snappy veggies, crispy tofu and smooth hummus that will make you feel light, but satisfied all day long!
Ingredients for about 8 small wraps:
– 4 large Chinese kale leaves or collard leaves
– ½ cup of cooked Jasberry rice (about ¼ cup of raw Jasberry rice)
– 200g of extra firm tofu (about 1 one cup of tofu cubes)
– 1 tbsp of soy sauce
– 1 tbsp of sesame oil
– About ¼ cup of all-purpose flour (enough to coat the cubed tofu on all sides)
– ½ cup of hummus
– ½ grated carrots
– ½ grated red cabbage
– Optional additions: fresh herbs (cilantro, parsley, basil, mint)
Directions:
1) Cook Jasberry rice according to packaging instructions.
2) Remove stems from large Kale or collard greens leaves and blanch. Leave in water for 30 seconds to ensure leaves are pliable, then plunge into ice water. Remove leaves from ice water and place on a paper towel. 3) Cut them in half to make 8 small wraps.
4) Grate red cabbage and carrots for wraps.
5) Prepare tofu: Use a towel to dry a block of extra firm tofu. Cut into ½ inch cubes and coat with soy sauce. Then dust cubes with all-purpose flour until fully coated. Fry tofu cubes with sesame oil in a non-stick pan on all sides.
6) Assemble wraps: Spread hummus in the middle of the wrap. Place each ingredient neatly in the wrap and roll the leaf, tucking in the sides of the wrap as you roll. Cut the rolls in half and serve with extra hummus.