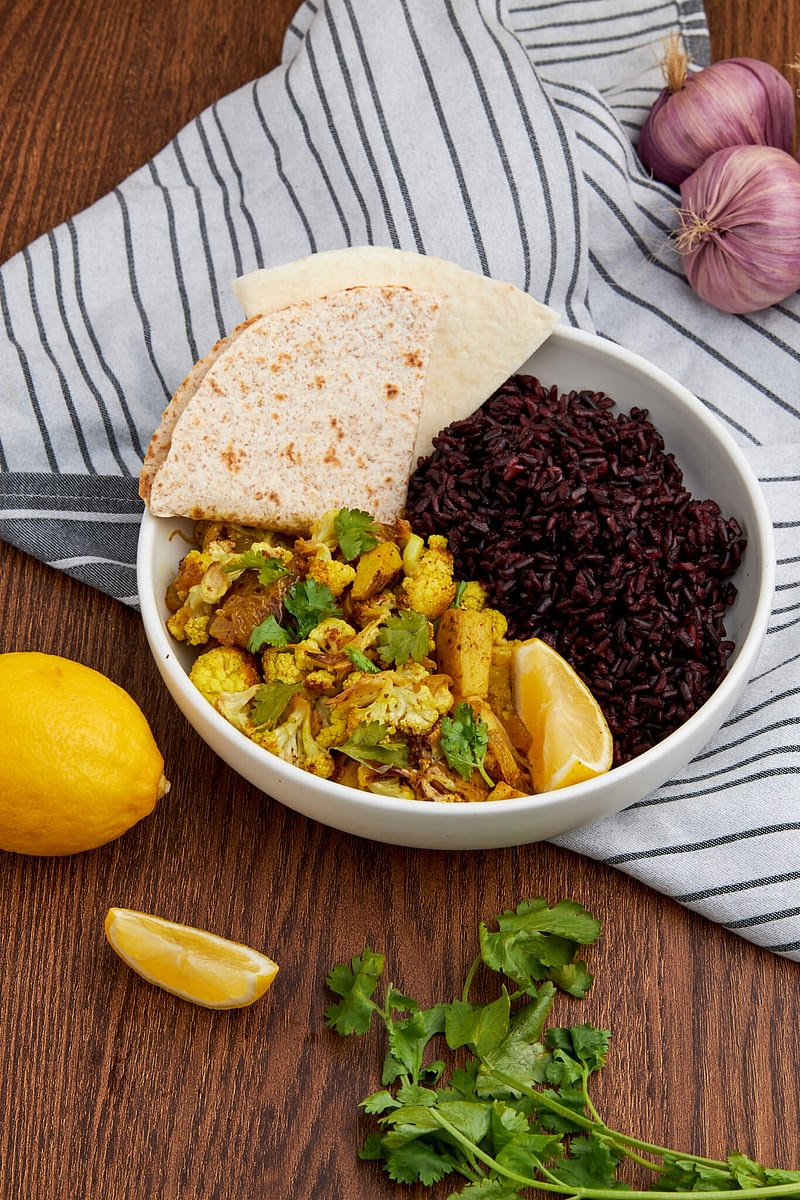 Try Jasberry's spin on Aloo Gobi for an exciting dish that is packed with flavors, feels homely, is vegan and super easy to make!
Spices like cumin, turmeric and ginger give this dish a colorful twist and an amazing Indian flavor that matches perfectly with Jasberry rice's nutty texture.
Once you try this tasty medley, you will never think of other rice again!
Ingredients for two servings:
– 1 cup Jasberry rice, cooked (approx. ½ cup raw Jasberry rice)
– 1 medium-sized potato, chopped
– ½ medium-sized cauliflower
– 3 Tbsp Olive Oil
– ½ Tsp Cumin powder
– ½ Tsp Ground Turmeric
– ½ small Onion, chopped
– ½ Tbsp Ginger, sliced
– 1-2 Slices of lime
– ¼ Cup Cilantro, chopped
– Pinch of Ground Paprika
– Pinch of salt
– Optional: Indian Roti Bread
Directions:

1) Cook Jasberry rice according to packaging instructions.
2) Preheat oven to 400° Fahrenheit (200° Celsius). Prepare foil on a baking tray and toss the chopped potatoes and cauliflower evenly onto the foil-covered with 2 Tbsp of olive oil. Roast the potatoes and cauliflower for about 15 minutes. Then toss and continue to roast for a further 15 minutes. Let cool to room temperature.
3) Over a large skillet, heat 1 Tbsp. olive oil on medium-high heat. Once the pan is hot, add the cumin powder and cook for around one minute. Once the cumin powder has turned darker, slightly reduce the heat and add the turmeric and onion until the onion is translucent.
4) Stir in the ginger and paprika powder to the onion mixture, then cook and stir until well combined (around one minute). Add the roasted potatoes and cauliflower and gently stir to avoid the cauliflower from breaking. Stir in salt and cook for around five more minutes until the cauliflower is tender.
5) Taste and adjust seasonings to liking- add more salt or lime, if needed. Top with cilantro.
6) Serve together with Jasberry rice and enjoy!